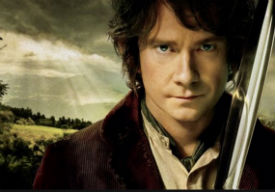 Movies are very important to me and to society overall. Seeing popular films gives the moviegoer a shared experience with other members of the community. This in turn allows you to understand references to the film in jokes and documentaries. For example, if you've never seen a film such as Star Wars, you would not understand the Family Guy and Robot Chicken parodies of it.
Sadly, for many people, a trip to the movie theater is not achievable due to extremely high prices. Where I live, New York, a couple going on a date to the movies can easily spend over $30.00 when drinks and snacks are factored in. Those same people may not be able to afford the premium movie channels. I am one of these people -- I typically wait years for a film to hit FX, USA or something similar, so I can see it in all its censored, commercial-riddled glory. The alternative is movie piracy -- something I do not condone nor take part of, for more reasons than one.
Internet aside, every barbershop I have been in over the last decade has someone selling bootleg DVD movies. Typically, the DVDs cost about $5.00 and the quality may be passable (they often carry a portable player to show you). However, to truly enjoy a film, I must have both pristine quality and a good conscience. I do not want to steal a movie now and lead to the downfall of the movie industry later. Quite frankly, I also don't want anything less than 1080p.
According to TorrentFreak, the below list is the top 10 most downloaded films of 2013 -- by way of BitTorrent. Of course, barbershop and street-corner sales are not included.
| | | |
| --- | --- | --- |
| Rank | Film | Number of Downloads |
| 1 | The Hobbit: An Unexpected Journey | 8,400,000 |
| 2 | Django Unchained | 8,100,000 |
| 3 | Fast And Furious 6 | 7,900,000 |
| 4 | Iron Man 3 | 7,600,000 |
| 5 | Silver Linings Playbook | 7,500,000 |
| 6 | Star Trek Into Darkness | 7,400,000 |
| 7 | Gangster Squad | 7,200,000 |
| 8 | Now You See Me | 7,000,000 |
| 9 | The Hangover Part 3 | 6,900,000 |
| 10 | World War Z | 6,700,000 |
Believe it or not, I have seen only one film on that list, The Hangover 3, which I hated. The other nine films I will catch on TBS or TNT in a few years. For now, I will have to forgo knowing the references to the films. I hope the movie industry appreciates it when I don't get one of SNL's jokes about The Hobbit.
Have you seen any of these films? Did you illegally download them? Tell me in the comments below.
via BetaNews http://feeds.betanews.com/~r/bn/~3/36o2elLFi4Y/